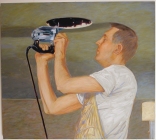 Greg Drasler

I began exhibiting my paintings professionally in 1983 on moving to New York after receiving my MFA and BFA at the University of Illinois in Champaign /Urbana.

My paintings were included in the first On View at the New Museum of Contemporary Art in 1983 curated by Marcia Tucker. This exhibition included images of home builders and handyman projects alluding to self construction. From the fall of 1980 to 1981 I lived in Japan as a foreign student through the Japan Studies Program at the University of Illinois with a supporting fellowship from the Mary C. McLellan Foundation. In the years 1984, 1985 and 1986 I had one person exhibitions at the R.C. Erpf Gallery in New York, NY and was included in a variety of group exhibitions. My interests shifted from constructed space to a unified pictorial space.

While thinking about painting as metaphor, through allegorical figures constructed of objects to objects as symbols, I visited Europe for the first time in 1984. Works from this period were included in solo and group exhibitions through the 80's at The Carnegie Museum of Art, Pittsburgh, PA, the New Museum of Contemporary Art, New York, NY, the Robeson Center Gallery, Newark, NJ, the Jack Tilton Gallery, New York, NY, and the John Berggruen Gallery, San Francisco, CA. for example.

In my Baggage Paintings, stand alone trunks, suit cases and handbags were replacements for the figure as places to contain identity. They ultimately raised ideas of the luxury of travel and mixed them with the anxiety of homelessness. The Baggage Paintings were first exhibited at Shea & Becker Gallery, New York, NY and Center for Contemporary Art, Chicago, IL in 1990 and a variety of group shows including Artist Space, New York, NY 1990, Knoxville Museum of Art, Knoxville, TN 1991, and The Flint Institute of the Arts, Flint, MI 1993. As I began to paint images of open suitcases, the luxe upholstered interior as opposed to the scared and scuffed exterior attracted me into a 15 year cycle of paintings of interiors. Packing and unpacking of the suitcase is the operative interest in my Cave Paintings.

I received a New York Foundation for the Arts Fellowship in 1991 and a National Endowment for the Arts Fellowship in 1993. These Grants helped me form this body of work. The first exhibition of the Cave Paintings was sponsored by The Queens Museum of Art, Queens, NY in 1994 at the Bullova Center curated by Christina Yang with a catalog including essays by Christina Yang, Robert Edelman and Deborah Drier. I continued to exhibit this work with one person shows in Boston, Chicago, Seattle and New York through this year 2004.

Being "in pattern" rather than "out of pattern" informed the Tattoo Parlors. Playing off the effect the imprint of a place leaves on its occupant I began to invent wall paper patterns. At the Djerassi Foundation, Woodside, CA in 1996, with my Residency Fellowship, funded by the Helen Bing Foundation I was able to a fully install this work for the first time. I painted patterns on the walls of my studio and installed my paintings in this patterned environment. In 1997 my first public installation of this idea was included at P.S. 122, New York, NY, in a group show curated by Sue Canning titled Get Busy.

Tattoo Parlor, installed at California State College at Fullerton in June of 2005 where I was in residence as a visiting artist gave me an opportunity for my first solo public installation of an entire gallery with pattern painted walls and installed paintings. The Jesus Wallpaper paintings began through my search for widely familiar iconography with which to create the patterns. The exhibition is accompanied by a catalog.

From the late 90's to the present I have been exhibiting in galleries around the country in addition to teaching painting as a Lecturer, Associate Professor and Visiting Artist at Princeton University, Pratt Institute of the Arts and Montclair State University. The most significant recent exhibitions were my three most recent gallery shows in New York at the Betty Cuningham Gallery. The latest of these exhibitions titles On the Lam is accompanied by an on line catalog and an interview on the RomanovGrave.com web site.

In 2000 my essay, Painting into a Corner : Representation as Shelter, was published in a collection of writing on the effects the work of Christopher Bollas a psychologist living in London has had on my work. The publication, The Vitality of Objects: Exploring the Work of Christopher Bollas, was edited by Joseph Scalia and published by Continuum Press in London and Wesleyan University Press in the U.S.

My central concern continues to evolve through paintings of interiors as places, paintings as sites in which to view subjectivities' construction and the fugitive comedic nature of existence.
Guggenheim 2014
Greg Drasler - Biographical Narrative
I lost everything that I owned In 1978 when a fire swept through a loft in Champaign, Illinois where I was living, making installations, sculptures, films and photographs. Only two paintings remained of my work in the University of Illinois studios and I turned my attention to painting as a site for building and putting myself back together. Images of construction, self-help and vernacular mid-west handyman as sources were developed in a glaze process of building up transparent colors in order to maintain luminosity and depth. I began to build pictures that addressed my concerns for reconstruction and recovery. My paintings continue to address concerns of return, repurposing, recycling and redemption.
In 1980 upon receiving my BFA and a fellowship from the University of Illinois, I enrolled in their Year in Japan Program. As a foreign student attending Konan Digaku in Kobe in the fall of 1980 I had daily contact with the cultural treasures in and around Kyoto, Osaka and Nara. My emersion in this ancient civilization increased my interests in how location and context built identity. On my return to the US I began to reexamine my place of origin and gained an appreciation and sense of purpose for the use of the familiar, vernacular and local context as a primary source for my work. I created cycles of paintings that were autobiographical and philosophical titled Moonlighting, Jobs in Heaven and Magnetism Loves Gravity. Common material references and repurposing of familiar images gave recycling, retrofitting and renovating new agency. This is the work that I first exhibited in New York shortly after my move.
In 1981 I met and became lifelong friends with Marcia Tucker, Founding Director of the New Museum who encouraged me, advised and helped me move to New York in 1983. I began exhibiting my paintings regularly in solo and group exhibitions in galleries and institutions. This included the first "On View," 1983 and the "Other Man : Alternative Views of Masculinity," 1987, both at the New Museum of Contemporary Art in New York, curated by Marcia Tucker. It was very exciting to be showing with John Coplans, Nicholas Africano and Manuel Pardo as well as being able to modestly support myself through my work from this time forward. I had one person exhibitions at the R.C. Erpf Gallery in New York in 1985, 1986 and 1987, in addition to a variety of group shows including with John Bergruren, San Francisco in 1985, Jack Tilton, New York in 1986 and at the Carnegie Museum of Art in Pittsburgh, PA in 1989. Encouraged by the attention and my reviews in Art in America for my exhibitions at the R.C. Erpf Gallery my work expanded figuratively from depictions of construction sites with workers, to allegorically assembled figures of object accumulations. This coincided with my use of alkyd mediums, giving me more descriptive time in the process of painting. Through images of crowds of men in hats, Baggage Paintings of assembled pieces of luggage and eventually open pieces of luggage, I decided that paintings of interiors offered flexible metaphorical sites for psychological subjective capacity. These paintings were exhibited in one person exhibitions at the Marianne Deson Gallery in Chicago, 1988, at Shea and Beker Gallery in New York, 1990 and group shows at The Flint Institute of Art and the Knoxville Museum of Art in 1991. Depicting the seductive upholstered interior of a suitcase framed by the scuffed exterior, set me on a path for the next 20 years of painting the insides out.
In 1990 my first exhibition of this work was presented at The Center for Contemporary Art in Chicago. The following year I received a 1991 New York Foundation for the Arts Fellowship with the first of the Cave Paintings. This support allowed me to continue developing the work for which I was awarded a National Endowment for the Arts Fellowship in 1993. The first full exhibition of Cave Paintings were exhibited through the Queens Museum of Art at the Bulova Center in 1994 with a catalog. I presented work in solo shows at the Miller Block Gallery ,1998 in Boston and the Eyre/Moore Gallery in Seattle in 2000. In New York my work was included at the New Museum of Contemporary Art in "The Mall " 1992 and "Temporarily Possessed " in 1995 in addition to one person shows at Generous Miracle Gallery, 2000 New York and at Van Brunt Gallery with "Claustophelia : Recent Paintings," 2004 New York, NY.
I began including wall paper patterns in my paintings and continued using hanging objects as constructive symbolic elements. These paintings became the Tattoo Parlors. I first painted patterns directly on the gallery walls as preparation for hanging my paintings during a residency fellowship at the Djerassi Foundation, Woodside, CA in 1996. In a small studio I was able to mount paintings on patterns painted directly on the walls. The first of this new cycle of works was installed at P.S. 122 in New York for the exhibition titled "Get Busy," curated by Sue Canning in 1997. It was last exhibited in my solo exhibition and residency at California State University / Fullerton Grand - Central Art Center at Santa Ana in 2005 with an installation and catalog titled "Tattoo Parlors."
In 2000 I was asked by the author Joseph Scallia to contribute an essay to his publication on the effect of the work of psychologist Christopher Bollas on my work. My essay "Painting into a Corner: Representation as Shelter," was published in The Vitality of Objects : Exploring the Work of Christopher Bollas, edited by Joseph Scalia, Continuum Press - London, Wesleyan Press-US 2002. I had become familiar with the work of Christopher Bollas in reference to my hanging object allegorical figure paintings of the mid 90s through his concept of the "unthought known." On publication of the book I visited Bollas in London and began an ongoing conversation with him. A collaboration with poet Timothy Lui titled Plolytheogamy was published in 2009 by Saturnalia Press, Philadelphia, PA. It is comprised of interleafed images of my paintings and Tim's poetry. In collaboration with artist Nancy Davidson, I produced a series of video interviews with the artists Don Dudley 2011, Judith Linhares 2011 and Thomas Kovachevich 2012 presented on line at RomanovGrave.com. This is an ongoing documentation of artists lives and work. We have several interviews in production.
I have continued to exhibit regularly throughout the past 30 years. During the
past 19 years I have taught and lectured part time at various schools in the
New York area including Williams College, Princeton University and Hofstra
University. I taught painting as an adjunct associate professor at Pratt
Institute over the past 8 years. During the summers of 2007 and 2008 I taught in
the Pratt in Venice Program. This allowed me a small income while immersing
myself in daily contact with the legacy of Venetian painting from Giotto to Tiepolo.
My emersion in this aesthetic connection and lineage of painting, including
intentional use of contemporary models, vivid color and iconographic accessibility,
energized my work culminating in my most recent show at Betty Cuningham
Gallery titled "On the Lam." (see website www.drasler.com )
I joined the Betty Cuningham Gallery in New York in 2007. I had one person exhibitions in 2008, 2009 and 2011. The development of my paintings of interior spaces moved through references of film production techniques, auto interiors and vehicles as places of intimacy. Currently I am working on a group of paintings titled " Road House." My long interest in construction techniques has spread to the sky and atmospheres in these current works. The paintings refer to the computation of clouds over a ground plane of vivid crazy quilt terrain in which structures suggest the American road house. The paintings are preoccupied with assembled transportation pleasures and necessities of the road as an architecture between here and there; vernacular architecture and liminal space. .
Greg Drasler